Most of us appreciate a good pick me up on a dreary winter day, and what better to lift your spirts than a cocktail of spicy spirits? Though I do live in Florida, and it really doesn't get that cold here, I still enjoy a good Jalapeno Margarita or Spicy Bloody Mary to help get me through the season. I'm actually writing this post on an overcast Sunday morning as a cold front has set in.
Spicy cocktails are nothing new, but they are a unique set of drinks. Finding the perfect balance between spicy and sweet can be a challenge, but these cocktail chef's below have done a great job of mending the two into delicious belly warming and head spinning concoctions.
#1 Sriracha Bloody Mary

Image Courtesy of White On Rice Couple

If you didn't already know, I'm a huge Sriracha fan. Not the knock off stuff from the dollar store or Subway, but the original Huy Fong Sriracha. Something about that hot red cock rooster sauce makes me feel warm and fuzzy all over.
Diane and Todd also have some great garnish idea's to help lively up your boring Bloody Mary.
Get the recipe over at White On Rice Couple.
#2 September Spice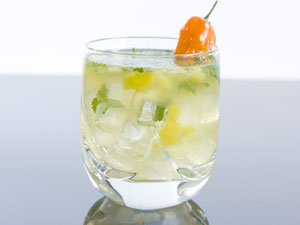 Image courtesy of Drink Of The Week

A cocktail garnished with Habaneros? Yes please! I was more than intrigued when I came across this little recipe. Made with simple ingredients that are easy to come by, this combination of sweet and heat can spice up any month. There was surprisingly little heat with the Habanero garnish, so a couple slices into the peppers let out some of that heat!
Get the ingredients and learn how to make it over at Drink of The Week.
#3 Bee Sting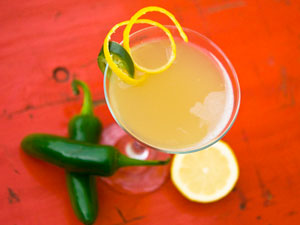 Images courtesy of Serious Eats

Ok, so admittedly I was originally attracted to this drink by the name alone. Bee Sting? Drink? Sounds hot, sign me up!
After looking into it, this drink is very much like the Jalapeno Margarita (my favorite) so it had to be given a try. This is now a close number two for me, with a couple extra ingredients that add a little more sweet to this cocktail and making a big difference.
Get stung over at SeriousEats.com.
#4 Jalapeno Margarita

Photo credit: jaaaarel / Foter.com / CC BY

Jalapeno Margaritas are my personal favorite cocktail. Spicy and sweet, the result of a perfect medley composed of spicy Jalapeno Peppers, Tequila, Salt, and a mix. While most restaurants charge a pretty penny for one of these concoctions, they are super easy to make at home and there are a ton of great recipes out there on them.
One of my favorites I've come by you can find over at Food Network.
#5 Pure Evil
One of our favorite ways to heat up a drink is by using a couple drops of Pure Evil in just about any beverage. Spice up a margarita, add some heat to your bloody mary, or just put a couple drops in your friend's beer.
It's a super simple recipe, and the best part? It's flavorless! You can heat up any beverage without affecting the flavor. Which is really pretty sweet.
So while it may be too early for me to be drinking, it's never to early to be thinking about drinking. I hope this list of our favorite 5 spicy cocktails can help you stay warm this winter.
Do you have a hot and spicy cocktail recipe? Share it with us in the comments, we'd love to give it a review!