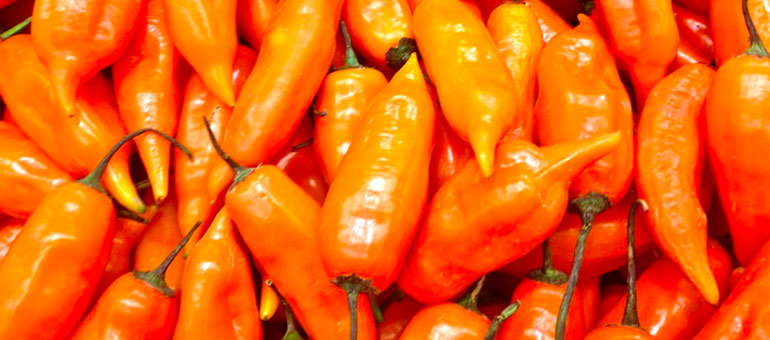 The Aji Amarillo Pepper is a common yellow chili pepper grown in Peru. It is about 3 to 5 inches in length and though it is called Amarillo (Spanish for yellow), they turn a darker orange color when they reach maturity. It has a rich deep flavor and a medium to hot heat. A member of the Capsicum baccatum family, it's not going to be easy to find in your local supermarket.
Origins
The most popular pepper in Peru, the Aji Amarillo and many others like it, have culinary uses that date back to over 7,000 years ago in Peruvian culture.
Taste and Smell
Aji Amarillo Peppers have a fruity and sweet taste that accompanies their heat well. While they can be hot, they are not excruciatingly painful, and actually quite enjoyable raw (if you can handle some heat).
I love the way post author Max Falkowitz puts the taste: "If there were a chile to taste like sunshine, this would be it."
Culinary Uses
Used in many popular Peruvian dishes, the Aji Amarillo will add some delicious heat. It can be purchased at specialty supermarkets in fresh, canned, paste, or dried form. The paste is easy to use in recipes and a tasty blend. In it's dried form, it is also known as Aji Mirasol.
How accurate is this article? We are striving to become the ultimate resource for information on peppers, and if you notice any inaccuracies, or want to contribute content, please contact us.
Photo Credit: Culinary Arts Abroad