Several weeks back my sister bought me a bag of Ghost Pepper Buffalo flavored beef jerky by Savage Jerky. The taste was phenomenal! That same taste urged me to try other flavors by Savage Jerky, so I did just that. And now I give you another world class review of an interesting product line. Enjoy!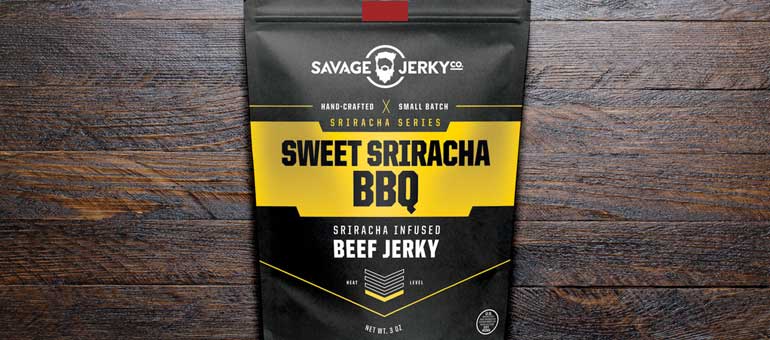 Sweet Sriracha BBQ
This flavor gives you more straight-forward beef flavor than any other flavors in this article. You can taste a slight barbeque sweetness, with the brown sugar standing out the most. The heat of this jerky is very mild, so I would give this a two out of ten for heat. I picked up the taste of tomatoes and garlic when eating this grassy, fresh tasting meat treat. This jerky would be perfect to take as a snack while kayaking or hiking. It's so mild you won't need milk, and not overly salted, so you don't dehydrate yourself during your activities. Overall, the flavor really agreed with my taste buds: flavorful, smooth, and simple.
Sriracha Teriyaki
The Sriracha Teriyaki flavor is definitely my favorite along with the Ghost Pepper Buffalo flavor. This jerky is not overly dry, it still has that hint of juicy that jerky lovers crave. Flavor balance and spice perfection can be found in this flavor and I love the faint taste of cilantro. The red peppers in the sriracha sauce packs a punch, followed up by a semi-sweet Worcestershire sauce aftertaste. Overall, this jerky is a well-balanced, medium heat and a delicious snack!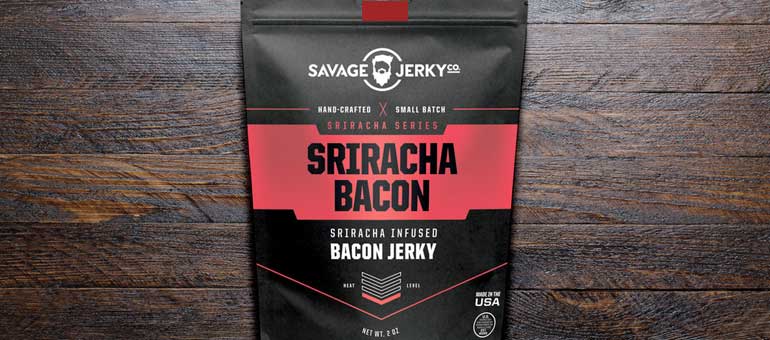 Sriracha Bacon
This is the only Savage Jerky product out of all six I have tried that I did not enjoy. BUT… I do not like bacon! Weird, crazy, un-American… I know, but its' just one of the only two foods that I really hate.
But regardless of my insanity, I have a job here, and for all the bacon lovers reading this, I want to describe the other flavors I experienced besides bacon. This a very mild heat jerky, the sriracha sauce is most definitely noticeable, but not overpowering. The sugars from the bacon, as well as the sriracha sauce undoubtedly make it quite sweet. If I compared this snack to any other food for flavor similarity, it would be sesame chicken. No, it doesn't taste like chicken, but the sweet and mild glaze, combined with a hint of garlic, does resemble the taste of sesame chicken.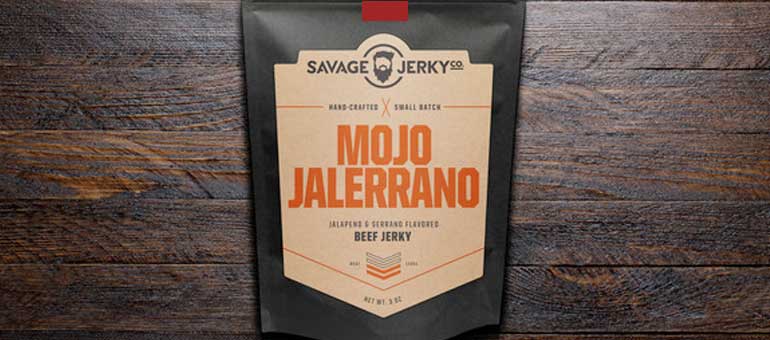 Mojo Jalerrano
Orange juice is definitely the first ingredient you experience when eating this jerky. Sweet, bold beginnings, followed by the fiery heat of jalapeno and cayenne pepper is the best way to describe the Mojo Jalerrano flavor. One note I took when taste-testing is that the front of the bag says "Jalapeno & Serrano flavored", while the ingredient list on the back, does not mention the serrano pepper, in fresh or dried chipotle form. Nevertheless, this is a tasty jerky, and very unique. Said and done, this tangy jerky is a quick way to get your capsicum fix; and though it's not my favorite in the Savage Jerky lineup, it is still a tasty contender in the market.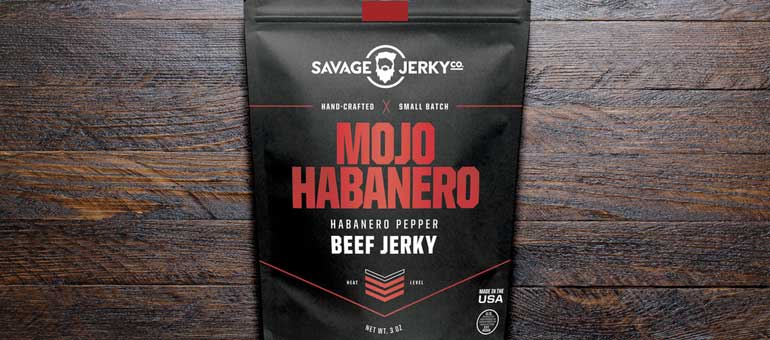 Mojo Habanero
There is really not much I can say about Mojo Habanero after the Mojo Jalerrano review, because both taste almost identical. Both are high heat and boast a strong, sweet citrus zing. In fact both share the same ingredient list… except for one. Yep, you guessed it, habanero pepper. But in the end, I really think one of the two could be omitted from the product line. There is not enough difference, in flavor, smell, heat or texture. So to sum things up, this is a good tasting jerky, and it has a twin named Mojo Jalerrano.
Point of dispute
While eating piece after piece of jerky, and working on this article for nearly a week, I discovered a problem. The heat scale for Savage Jerky needs some reformatting. For example, both Mojo Jalerrano and the Sriracha Teriyaki flavor are given a two out of four on the Savage Jerky heat scale. But, neither are equal in heat.
Final thoughts
All of these flavors combined create a magnificent assortment of awesome tasting jerky. Try it for yourself. And thanks for reading!
Summary
Reviewer
Review Date
Reviewed Item
Author Rating