As a lover of Mexican food, I became well acquainted with a great standby for tacos, Mexican rice, coctel de camarones and other dishes from south of the border: El Yucateco Chile Habanero, the red version.
I put the stuff on eggs. I put it on vegetables. I add it to chili for a Mexican-style kick. Heck, it's even good on a burger (or mixed into the burger as you shape the meat). Nothing special, mind you, but solid and versatile, not to mention really cheap.
But it wasn't until a couple of years ago that I was in a Mexican restaurant near my house and stumbled upon this sauce's grumpy cousin, El Yucateco XXXtra Hot Habanero Hot Sauce.
I was sitting at the restaurant's bar, about to unload on a chicken taco, when I noticed the sauce sitting on the bar nearby. At most Mexican places, you get your choice of the aforementioned bright red or its green brother, both of which are fine companions to Mexican fare. But I couldn't take my eyes off the murky-looking, brown-ish green sauce a couple of arm's lengths away.
I reached for it and my eyes quickly went to the words "XXXtra Hot" on the label. Of course, that got my curiosity up, so I dropped a couple of dabs on a tortilla chip. The thick-ish sauce has a color that's hard to describe; sorry to be gross, but it looks like something that might come out of an infected boil. But the smell was an immediate treat for the olfactory.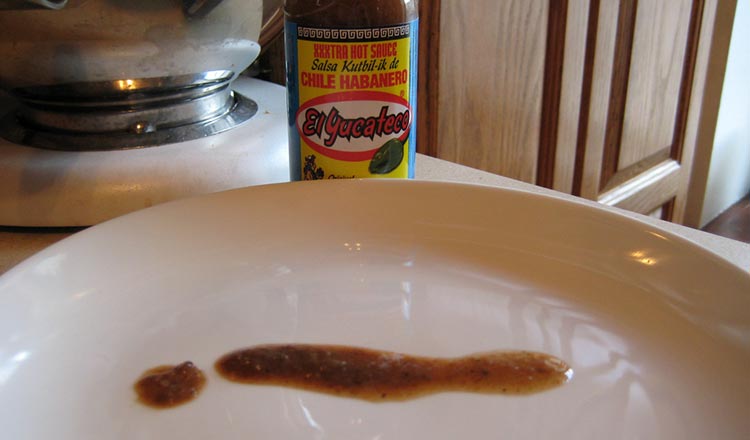 Then I took my first taste. What blew me away wasn't so much the heat (the sauce comes in at around 11,000 scoville units by most counts), but the rather unique flavor. Yes, there's plenty of the distinctive habanero flavor and kick, but there's also an underlying smoky flavor that is difficult to describe. So, did they roast the peppers first? Smoke them like a fine mescal?
The next thing that hit me was the level of vinegar I was able to detect in the flavor. I was hooked immediately, as this was miles ahead of the red or green, at least to my senses. I asked the bartender how long it had been available in the U.S., and he had no clue. I asked him if he knew where I could get some of it, and again, no clue.
So, I went out on a limb and asked him if he would sell me a bottle. The one I had tasted from was already open and was about three-fourths full.
"You can have it," he said.
"What?"
"You can have that one. Take it home. We have more."
Well, all right, if you insist. I tipped him a couple extra dollars and thrust the bottle into my coat pocket (well, after dousing my tacos with generous amounts of the stuff).
When it was all said and done, I was left with a nice, lingering burn on the tongue, much more so than that left by the red or green versions of El Yucateco's sauces, and I was able to enjoy a unique new flavor in the process, which is still sort of a mystery, given the ingredients are simply habanero peppers, vinegar, tomatoes, salt and "spices." I especially love it on chicken.
Luckily, I soon learned the stuff was indeed available for retail sale, a good thing since that freebie bottle didn't last long once I got it home. Perhaps best of all, I also learned you can find a bottle for about four or five bucks. As such, I always have an extra one on hand. (And I guess now I need to get my hands on a bottle of the even newer El Yucateco Black Label Reserve Chile Habanero Sauce.)
Disclosure of Material Connection: Some of the links in the post above are "affiliate links." This means if you click on the link and purchase the item, we will receive an affiliate commission. Regardless, we only recommend products or services we use personally or believe will add value to our readers. We are disclosing this in accordance with the Federal Trade Commission's 16 CFR, Part 255: "Guides Concerning the Use of Endorsements and Testimonials in Advertising."