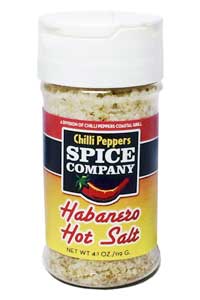 Hot 'sauces' aren't the only 'hot' game in town. There are dozens, maybe hundreds, of spicy toys to play with!
The hot salt trend started several years ago with Morton's Hot Salt, which was a Tabasco-style salt that got hotter, the more salt that you used. You could say it started decades before, with garlic salt, etc, but I wouldn't call them 'hot'.
One of my absolute favorite spicy seasonings is Habanero Hot Salt. It combines the heat of habanero, with the flavor of salt. Made in Kill Devil Hills, North Carolina, it is bound to be hot, and it doesn't disappoint. The heat is gradual. Use a little, and you get a little, still habanero, heat. The more you add, the hotter it gets, until your 11 year–old can't take it anymore (don't ask how I know this. He did it, not me!)
Habanero Hot Salt is excellent on pasta, chicken, pork chops, steak and scrambled eggs. Personally, I don't like it on pizza, since the salt is on top of the pizza, and when you bite it, the salt sticks to the roof of your mouth! I share this salt with friends, many of them don't even know it exists, and they all start looking for where to buy it!
Highly recommended addition to your spice / hot sauce cabinet. Let me know your thoughts!