It had been a while since I've had wings. A shame, I know. Recently we got a little package of sauces from Kyvan Foods, included was their Hot Wing Sauce. What more motivation do I need?
Initially my reason for making the wings was to review the sauce, but this quickly turned into creating a new, simple recipe of my own. My options are limited to cooking in a cast iron skillet on my stove top, and while searching for an easy recipe that catered to my needs, I was pretty disappointed with what I found.
Wings are supposed to be simple. An easy snack you can fry up and enjoy quickly. So I just put together the bare minimum of ingredients, and of course, added some super hot spice!
Ingredients: Flour, Olive Oil, 10 Drumettes, Gallon Ziploc Bags, Seasoning, Beer, Lime
Prep Time: 10 Minutes
Cook Time: 15 – 20 Minutes
Heat Your Oil
Yes, you can use olive oil when frying wings. For some reason people think that is a no-no. Yes, olive oil has a lower smoke point, but gets more than hot enough to fry some wings. It is also a healthier alternative to other fatty oils. Only fill your skillet about 1/4 – 1/3 of the way full with oil, as it will rise when full of wings. Heat oil to 360º – 370º which is around med-high heat on my cook top.
Prep
Combine 1/2 cup of flour and 2tbsp of your seasoning of choice into the Ziploc bag, shake well. For seasoning, I went with a Scotch Bonnet based seasoning for some great flavor and heat. Toss your drumettes into the bag and give it a good shake once more, evenly coating all of the wings. Dice the lime into small wedges and add to your lager, this is a necessary step in any good wing recipe.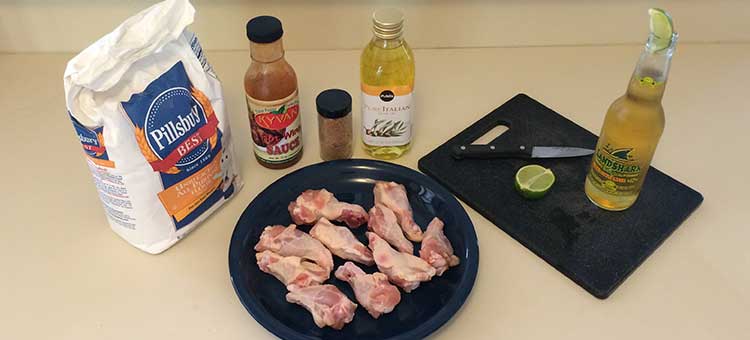 Time To Fry
With your oil heated, carefully add the wings one by one using tongs, giving a couple seconds in between. This will help keep the temperature from dropping too far and keep you from splashing molten oil on your skin.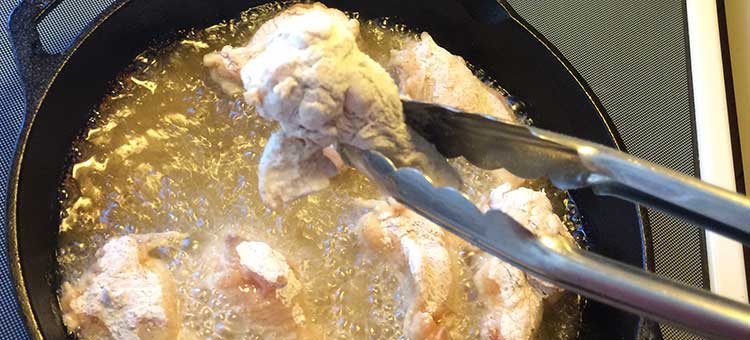 Wait, Turn, And Drink
Sit back and have a drink. You deserve it! Fry the wings for about 15-20 min, giving them a quarter turn or so every 3-5 min.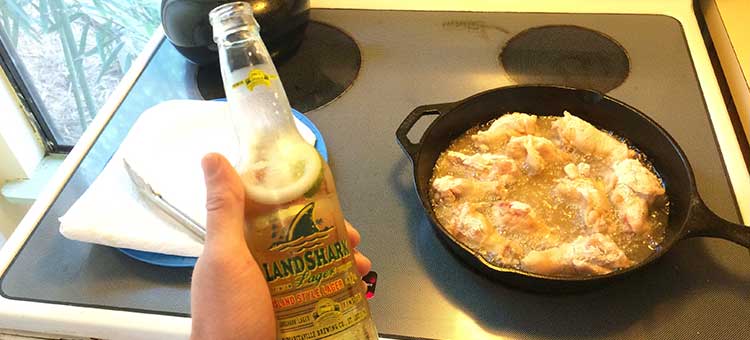 Cool It Down
After wings are completely cooked, remove from oil and let them cool on a paper towel covered plate for a couple minutes.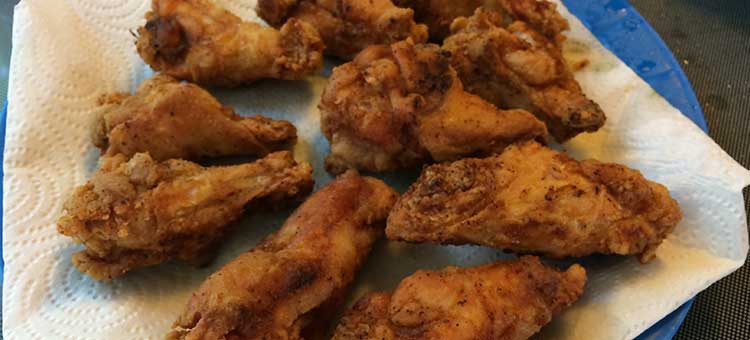 Add Your Wing Sauce And Enjoy!
Now for the best part, the sauce. Move your wings to a clean plate and laquer them up with your favorite wing sauce. Now, this Kyvan Hot Wing Sauce is of a completely different caliber! It's got some heat, just the right amount of tang, and a ton of flavor. It's my new favorite!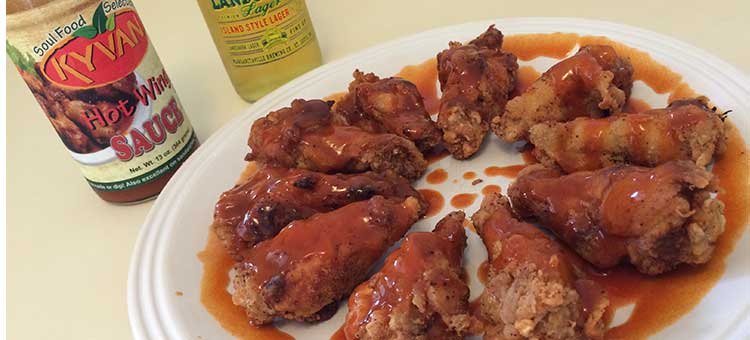 So how did these wings turn out? "These are some of the best wings I've ever tried!" – My girlfriend, Jessica.
Summary
Recipe Name
Simply Spicy Skillet Fried Hot Wings
Published On
Preparation Time
Cook Time
Total Time
Average Rating





Based on 6 Review(s)