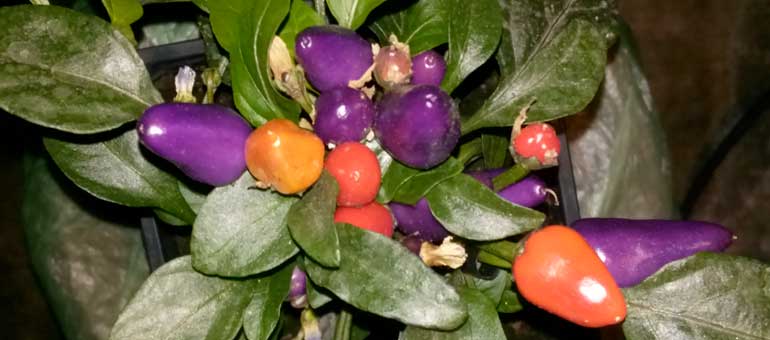 An ornamental, Aurora Peppers are a medium to hot pepper and make a beautiful addition to any porch, patio, or garden. Aurora Peppers are a member of the Capsicum Annum species, their full scientific name being Capsicum annuum longum group 'Aurora'.
The Aurora can survive multiple seasons in warmer climates, and requires only basic maintenance and care. It's a great plant for novice gardeners with seeds readily available online.
Origins
The Aurora Pepper is believed to have originated in Mexico. Translating to "dawn" in Spanish, the Aurora earned it's name from the broad array of colors on it's numerous pods.
Appearance
Being an ornamental, these plants are gorgeous and have an array of different colors. Auroras start green, turn to lavender, to orange, and finally red when they reach maturity. They grow to around 1.5″ long and 0.75″ wide. When mature, the plants reach about 1′ in height.
Uses
Since the Aurora Pepper is considered an ornamental plant, most people use them as a decoration. We've read mixed opinions on whether or not you should eat them. Some people eat them, some don't. Regardless, they definitely pack some heat.
Cultivation
Reaching a mature height of only 12″, they are a great container plant. That will also allow you to bring them inside pending any potential frost threats.
Like most peppers, sow seeds indoors around 8 weeks before the last frost. Germination takes around two weeks.
When transplanting these to a bed, plant them about 1.5′ apart, though we highly recommend planting these in pots. The pods reach maturity around 65 to 80 days after transplanting to your garden.
The plants require full sun, with at least 6 hours of direct light each day.
How accurate is this article? We are striving to become the ultimate resource for information on peppers, and if you notice any inaccuracies, or want to contribute content, please contact us.
Photo Credit: Chili Papricicie