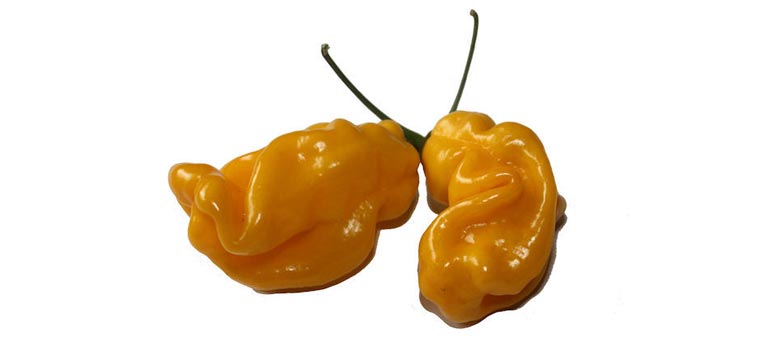 The Madame Jeanette chilli pepper is one of the hottest peppers throughout  world. You are able to generally  find the Madame Jeanette Pepper in the Caribbean Islands. They were recognized in the same family as the Scott Bonnet along with other mixture of chilli peppers that belong within the same category as the Habanero. If you like hot peppers, you will love Madame Jeanette Chili, because they are one hot ass pepper . The Madame Jeanette has a heat rating of 125,000 – 325,000 SHU.
Origins
Named after a notorious prostitute from Brazil, the Madame Jeanette has a curvy shape, similar to a bell pepper, and the colors run from yellow to reddish-yellow as the pepper ripens. Used in almost all facets of Surinam cuisine, Madame Jeanette peppers are very versatile. These colorful chilis will flourish whether grown indoors or outdoors, in a vegetable garden, or in pots.
Cultivation
Because of its tropical nature, the Madame Jeanette chili is unable to flourish properly in cooler climates, do to its tropical nature .The best place to grow it, if you're not in a tropical climate, is inside your home. It's fairly easy to grow if placed in the precise temperature. The size of the pepper is ordinarily small, approximately about. 2 ¾" long by 1 ¾ wide pods. You should be able to start gathering the peppers in about  3 to 4 months into the garden.
Uses
Madame Jeanette chili normally has a fairly tasteless if eaten raw and uncooked. To get the most out of the pepper cook it whole when using it in dishes like chilli, tomato chutney, enchiladas, several Mexican dishes as well as most savory dishes . You can even make sauces with the Madame Jeanette Chili, it will make your mouth feel tingly and your taste buds satisfied. You will smell this marvelous and stunning aroma that has been unleashed as your delicious meal comes together.
If you are a person that is really into hot foods, you and your family will definitely like the Madame Jeanette Chilli and your favorite savory dish.
How accurate is this article? We are striving to become the ultimate resource for information on peppers, and if you notice any inaccuracies, or want to contribute content, please contact us.
Photo Credit: 123 Seeds